Special Note
It has been over a year since my last Rockabilly auction. It is very hard to put together an auction of original 1950's Rockabilly these days. Most of the originals were made in very small quantities and have long been discovered and placed into private collections, mostly in Europe. What is now found, on rare occasions, is usually beat up.
I have done my very best to ensure that this auction is a good mix of all time classics and super obscurities. Prices for the "good stuff" have entered the stratosphere in the past few years and show no signs of coming down.
Far, far too many collectors, including many under 50 years old, are chasing far, far fewer records.
We end with two GREAT LP's at the end of this auction in stunning condition. Make sure you don't miss them!
Good luck with your bids and I am always happy to play anything you don't know over the phone. Enjoy!

P.S. During this period of transition, please have patience when requesting or purchasing records. Otis had knowledge in areas of music that I did not, such as 1960's Soul, Garage and Psych, which were his specialties, and Jazz, which he loved. My daughter and several other newly-promoted individuals will eventually take on his responsibilities.
Without the expertise and experience Otis provided at my disposal, it will be a slow and bumpy road getting back to our previous level.
---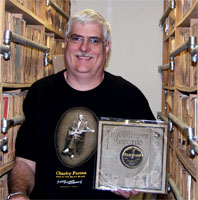 My name is John Tefteller-I have been buying and selling rare phonograph records for the past 35 years. I have a worldwide reputation for my knowledge of rare records, especially Blues 78's.
My personal collection contains some of the rarest records on the planet. My auctions in Discoveries magazine featured some of the rarest records on the planet. Many have sold for "record" prices. For top quality records, no one can top The World's Rarest Records!
I have the world's largest inventory of Blues, Rhythm & Blues and Rock & Roll 78's with over 75,000 in stock. I also have a fabulous selection of over 100,000 45's from the 1950's and early 1960's in the following categories: Blues, Rhythm & Blues, Rockabilly, Rock & Roll, Girl Groups, Surf and Country.
I am always interested in buying more rare records! I will pay top dollar for your rare Blues and Rhythm & Blues 45's and 78's in Near Mint condition. Before you sell your rare records to ANYONE, you should at least talk to me. I consistently pay the highest prices for records for my collection and am more than fair when buying for resale.
---
Email my webmaster to sign up for my email newsletter! I'll have upcoming auction highlights and sound samples. We will NEVER give out your information to ANYONE!
---
Don't forget bid and to get your bids in early! If you really want to secure your selections, please take advantage of my "call back" system. Questions? Call my cell phone: (541) 659-7175. Good luck to all!
Good luck on your bids, everyone!


Phone me at (800) 955-1326 (USA Only) or (541) 476-1326 (Outside the USA) • Write me at P.O. Box 1727 Grants Pass, OR 97528-0200 email me at John@Tefteller.com • Our privacy and security policy