Ralph DeLuca's Pre-War Blues 78's collection, part 1 Complete List!
Closes Thursday, September 16, 2021 at 7:00 pm PT
This is auction #1 (of at least five) of the record collection of Ralph DeLuca.
Mr. DeLuca is most known for his legendary collection of rare movie posters, but for about 15 years he actively, and aggressively, collected rare Blues 78's, mostly Pre-War.
He plunged into collecting rare Blues 78's hot and heavy and went for the best whenever and wherever he could find them. He bought smart and paid big to get what he wanted!
Mr. DeLuca has moved into the art world, no longer collecting 78's, as he finds it easier to buy rare art than rare records. That should tell you something!
There should be something for each and every Blues collector reading this auction. There are titles here not seen for sale in decades . . . and some may never be seen again.
This is your chance to get some LEGENDARY rarities and just plain GREAT records for your collection. Be prepared though — the great stuff is going to go for a lot of money!
E+ is the highest grade used. This is the old-time 78 grading system and I am very strict.
The next Ralph DeLuca auction will be in a few months and contains another 100 goodies.
Ralph DeLuca's Pre-War Blues 78's auction, part 1, highlights


Printed (PDF) version of Ralph DeLuca's Pre-War Blues 78's auction, part 1
How to bid on my Monthly Auctions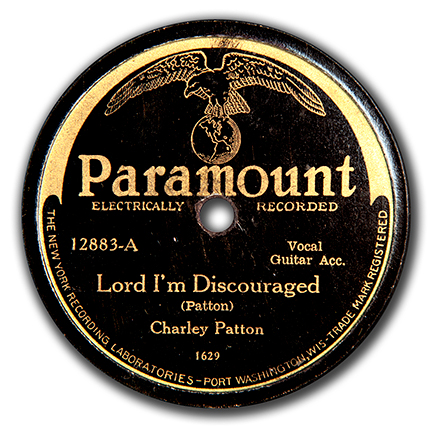 1. Charley Patton — "Lord I'm Discouraged / I'm Going Home" PARAMOUNT • 12883 E-One of the very FEW clean copies of this record out there! Here's your chance to get a clean, decent Patton that plays well. Legendary artist! Top Shelf record! MB $10,000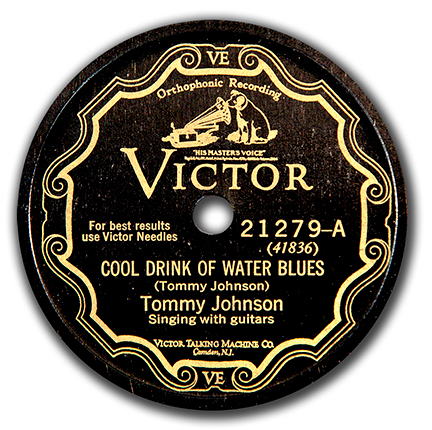 2. Tommy Johnson — "Cool Drink Of Water Blues / Big Road Blues" VICTOR 21279 • E Stunning condition copy of all time classic Delta Blues! "I asked her for water, but she gave me gasoline." Major, major investment record! MB $5,000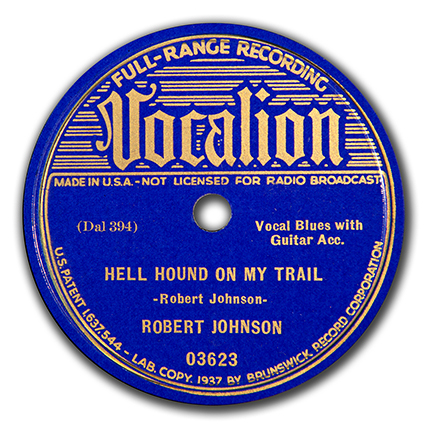 3. Robert Johnson — "Hell Hound On My Trail /From Four Until Late" VOCALION 03623 • E/E+When was the last time you saw this one for sale in near perfect condition? The stuff that dreams are made of!!! See item # 46 in this auction for another Robert Johnson.
4. "Texas" Alexander — "Section Gang Blues/Levee Camp Moan Blues" OKEH 8498 E- With lam crack on B-side MB $50
5. The Beale Street Sheiks With Frank STOKES — "Jazzin' The Blues/Last Go Round" PARAMOUNT 12591 V+ NICE PLAYER MB $100
6. Ed Bell — "Carry It Right Back Home/She's A Fool Gal" COLUMBIA 14595 E MASTERPIECE MB $500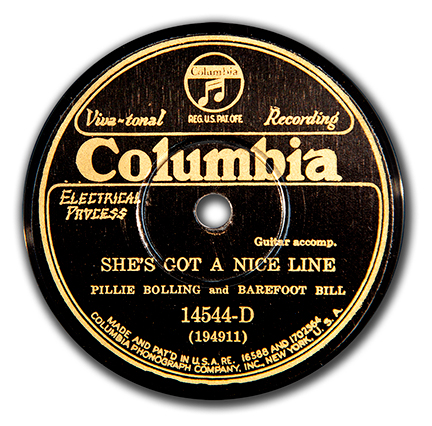 7. Pillie Bolling And Barefoot Bill — "She's Got A Nice Line/I Don't Like That" COLUMBIA 14544 E GREAT MB $500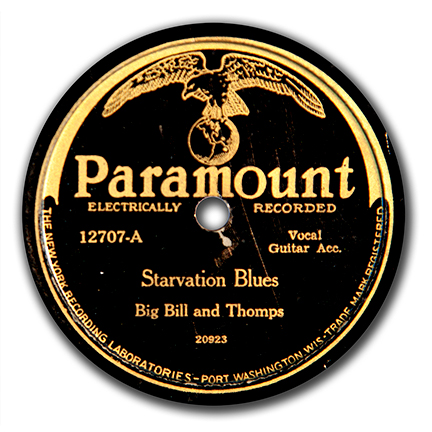 8. Big Bill And Thomps — "Starvation Blues/Down In The Basement Blues" PARAMOUNT 12707 E BIG BILL BROONZY'S SECOND RECORD — Superb copy! MB $2,000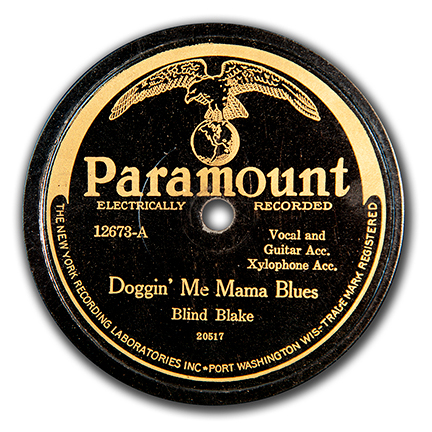 9. Blind Blake — "Doggin' Me Mama Blues / Hot Potatoes" PARAMOUNT 12673 E SUPER CLEAN BLIND BLAKES are hard to findMB $1,000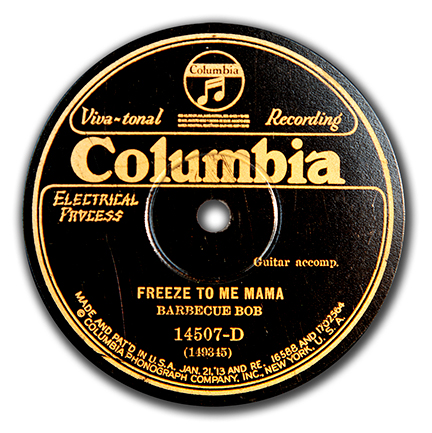 10. Barbecue Bob — "Freeze To Me Mama/Me And My Whiskey" COLUMBIA 14507 E Clean Barbecue Bobs are tough to find these days MB $500
11. Ishman Bracy — "Brown Mamma Blues/Trouble Hearted Blues" VICTOR 21691 E STUNNING CONDITION COPY MB $2,000
12. Big Bill Broonzy — "I Can't Make You Satisfied/I'm Just A Bum" BLUEBIRD 6111 E- Nice and scarce one on Bluebird MB $200
13. Billy and Jesse — "Put Your Mind On It/Strewin' Your Mess" BRUNSWICK 7099 E- MB $50
14. Butterbeans And Susie — "Construction Gang/A To Z Blues" OKEH 8163 G MB $10
15. Cannon's Jug Stompers — "Pretty Mama Blues/Going To Germany" VICTOR 38585 V+ Nice playing copy of their MASTERPIECE MB $500
16. Leroy Carr And Scrapper Blackwell — "Mean Mistreator Mama No. 2/Shady Lane Blues" VOCALION 02762 E- MB $100
17. Leroy Carr And Scrapper Blackwell — "Blues Before Sunrise/Mean Mistreater Mama" CONQUEROR 8741 E- MB $100
18. Bo Carter — "All Around Man/Cigarette Blues" BLUEBIRD 6295 V- Edge chip, not into grooves MB $50
19. Bo Carter — "Sue Cow/Flea On Me" BLUEBIRD 6695 V+ MB $100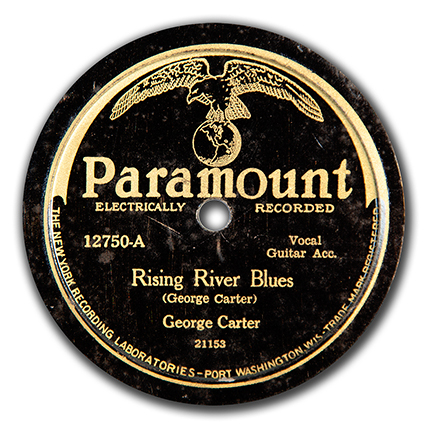 20. George Carter — "Rising River Blues / Hot Jelly Roll Blues"PARAMOUNT 12750 V+/E- Great one! MB $500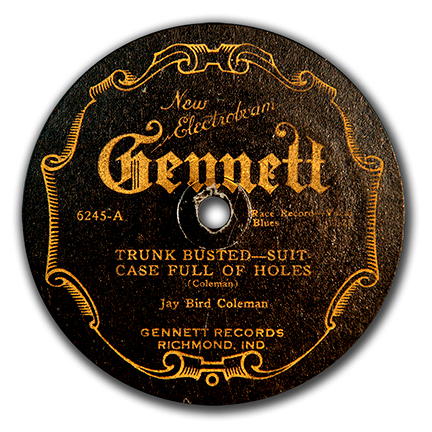 21. Jay Bird Coleman — "Trunk Busted—Suitcase Full Of Holes/Man Trouble Blues" GENNETT 6245 V MB $500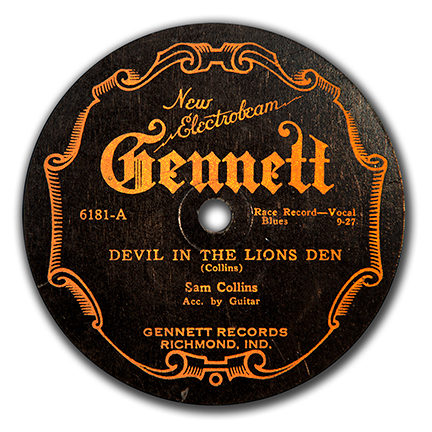 22. Sam Collins — "Devil In The Lions Den / Good Time Blues"GENNETT 6181 • V+ I dare you to find a better copy of this one . . . and if you do, please sell it to me. My copy is in about the same shape as this one. These are TOUGH AND GREAT!! MB $1,000
23. Ida Cox And Her All Star Band — "Deep Sea Blues/Death Letter Blues" VOCALION 05336 E MB $25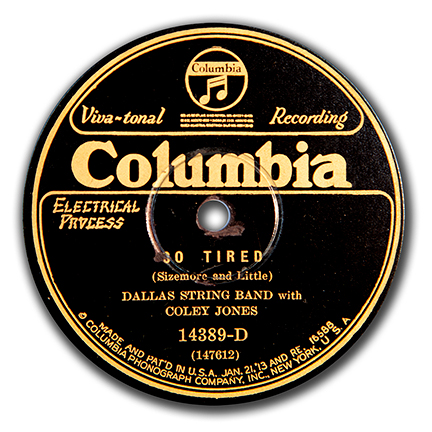 24. Dallas String Band With Coley Jones — "So Tired / Hokum Blues" COLUMBIA 14389 E+ MASTERPIECE MB $1000
25. Genevieve Davis — "Haven't Got A Dollar To Pay Your House Rent Man/I've Got Something" VICTOR 20648 E Great New Orleans sound MB $200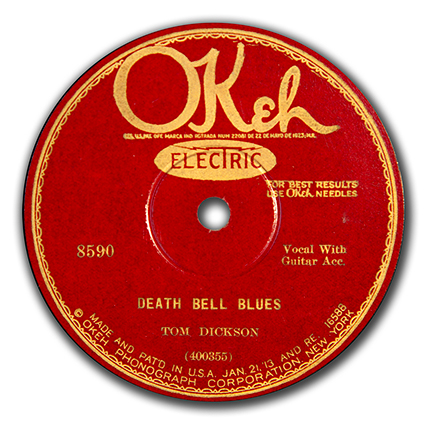 26. Tom Dickson — "Death Bell Blues/Happy Blues" OKEH 8590 E+ MASTERPIECE!!! Sounds like Mississippi John Hurt!!! MB $2,000
27. "Sleepy" John Estes/Son Bond — "Working Man Blues/Come Back Home" BLUEBIRD 8950 E+ BEAUTIFUL COPY MB $300
28. Will Ezell — "Barrell House Woman/Heifer Dust" PARAMOUNT 12753 E- B-side has edge chip that goes in ten grooves MB $20
29. Four Dusty Travellers — "Me An' Mah Pardner/Po' Mourner" COLUMBIA 14477 V+ Slight edge chip, not into grooves and three small lam cracks MB $25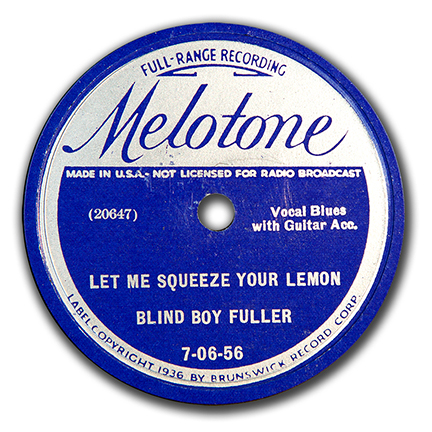 30. Blind Boy Fuller — "Let Me Squeeze Your Lemon/My Baby Don't Mean Me No Good" MELOTONE 7-06-56 E BEAUTIFUL COPY MB $300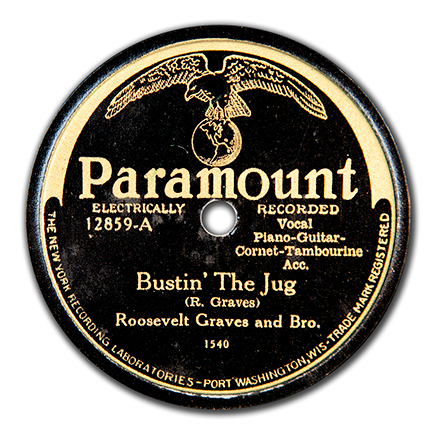 31. Roosevelt Graves And Bro. — "Bustin' The Jug/Crazy About My Baby" PARAMOUNT 12859 E- RARE MB $1,000
32. The Harlem Hamfats — "The Garbage Man/Southern Blues" DECCA 7229 E/E+ Their BEST record MB $100
33. Sloppy Henry — "Say I Do It/Some Sweet Rainy Day" OKEH 8805 E- MB $300
34. Bertha "Chippie" Hill — "Trouble In Mind/Georgia Man" MELOTONE 6-12-70 V MB $20
35. Tony Hollins — "Crawlin' King Snake/Stamp Blues" OKEH 06351 E+ GREAT ONE MB $400
36. Peg Leg Howell — "Broke And Hungry Blues/Rolling Mill Blues" COLUMBIA 14438 E- MB $300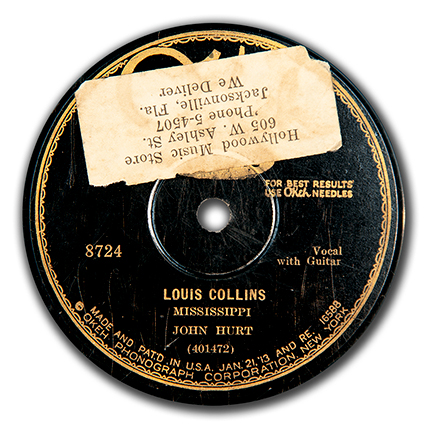 37. Mississippi John Hurt — "Louis Collins/Got The Blues Can't Be Satisfied" OKEH 8724 V- Store sticker on A-side, small lam crack, plays decent, HIS MASTERPIECE MB $200
38. Bessie Jackson — "B.D. Woman's Blues/Jump Steady Daddy" MELOTONE 5-12-58 E- MB $100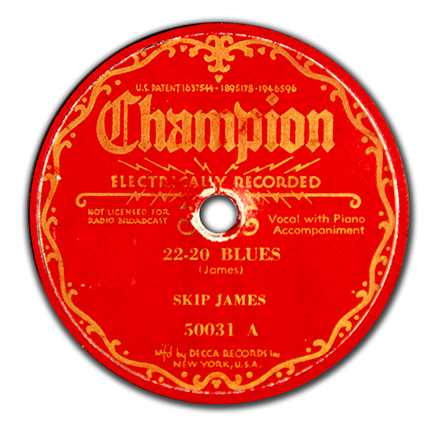 39. Skip James — "22-20 Blues/If You Haven't Any Hay Get On Down The Road" CHAMPION 50031 E- Nice copy of the ONLY "AFFORDABLE" ORIGINAL SKIP JAMES 78! MB $4,000
40. Frankie Half Pint Jaxon — "Let's Knock A Jug/Can't You Wait?" VOCALION 1285 E MB $300
41. Frankie (Half Pint) Jaxon And The Harlem Hamfats — "The Dirty Dozen/Take It Easy Greasy (You Got A Long Way To Slide)" DECCA 7304 E- MB $100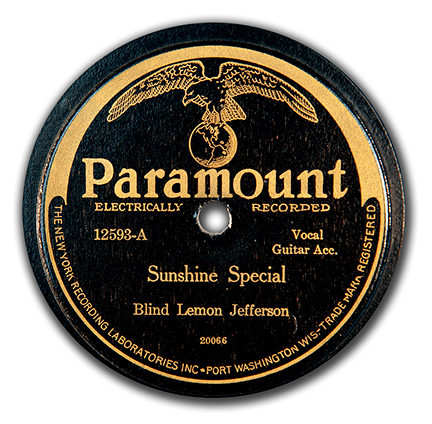 42. Blind Lemon Jefferson — "Sunshine Special / Lonesome Home Blues" PARAMOUNT 12593 E CLEAN LEMONS ARE REALLY HARD TO FIND MB $800
43. Blind Willie Johnson — "I Know His Blood Can Make Me Whole/Jesus Make Up My Dying Bed" COLUMBIA 14276 V+ MB $100
44. Blind Willie Johnson — "Keep Your Lamp Trimmed And Burning/Lord I Just Can't Keep From Crying" COLUMBIA 14425 V- Lam crack MB $20
45. Lonnie Johnson — "New Falling Rain Blues/Southbound Backwater" DECCA 7461 E Small label tear on B-side MB $75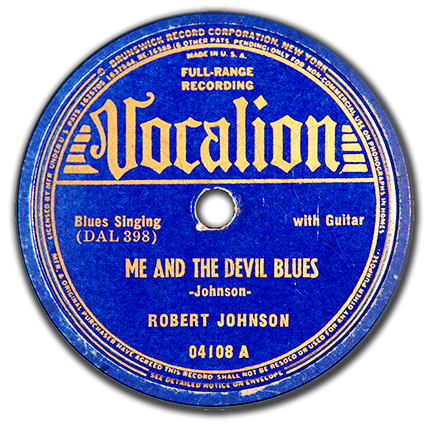 46. Robert Johnson — "Me And The Devil Blues/Little Queen Of Spades" VOCALION 04108 V+ NICE PLAYER MB $1,500
47. Maggie Jones — "Mama Stayed Out The Whole Night Long/He Belongs To Me" COLUMBIA 14167 V+ MB $25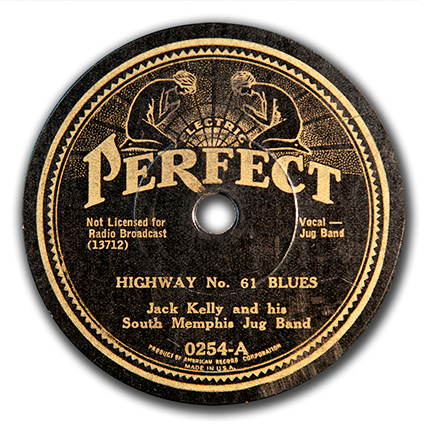 48. Jack Kelly And His South Memphis Jug Band — "Highway No. 61 Blues/Red Ripe Tomatoes" PERFECT 0254 V+/E- FABULOUS MB $500
49. Jack Kelly And His South Memphis Jug Band — "Highway No. 61 Blues No. 2/Cold Iron Bed" MELOTONE 12877 V MB $100
50. Lillie Mae Kirkman — "Hop Head Blues/It's A Hard Way To Travel" VOCALION 04951 E- MB $200
51. Kansas City Kitty And Georgia Tom — "Fish House Blues/Do It By Myself" VOCALION 1545 E- MB $200
52. Huddie Leadbelly — "New York City/You Can't Lose-A Me Cholly" BLUEBIRD 8750 E MB $100
53. Meade Lux Louis — "Honky Tonk Train Blues/Dearborn Street Breakdown" PARAMOUNT 12896 Poor With label damage, pretty much a wall hanger but this is the very first version of the all time classic song MB $50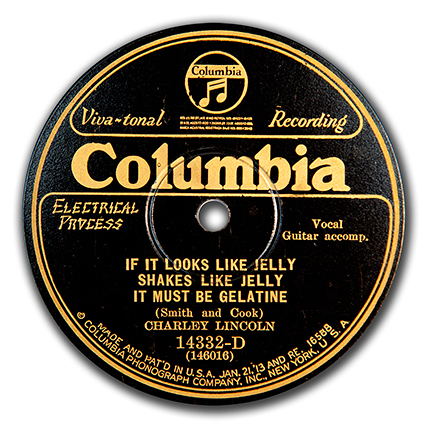 54. Charley Lincoln — "If It Looks Like Jelly Shakes Like Jelly It Must Be Gelatine / Ugly Papa" COLUMBIA 14332E Charley Lincoln is Barbecue Bob's brother and this is a tough one to find. Great title! MB $500
55. Aunt Mandy's Chillun — "The Prodigal Son—Part 1/Part 2" COLUMBIA 14564 E MB $300
56. Ramblin' Bob aka Robert Lee McCoy aka Robert Nighthawk — "Big Apple Blues/She's Got What It Takes" BLUEBIRD 7987 E-/E MB $200
57. Robert Lee McCoy — "Gonna Keep It For My Daddy/Mama Don't Allow Me To Stay Out All Night Long" DECCA 7767 E MB $200
58. Viola McCoy — "I Want A Good Man/If You Really Love Your Baby" COLUMBIA 14395 V With lam crack on A-side MB $20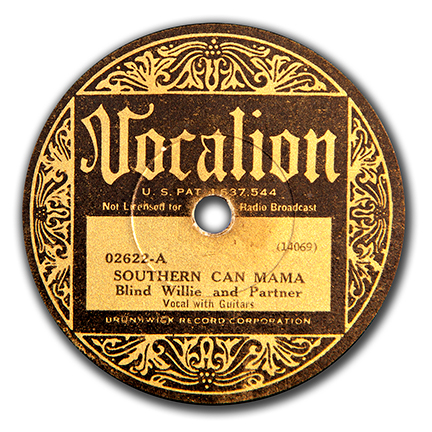 59. Blind Willie McTell And Partner — "Southern Can Mama/It's A Good Little Thing" VOCALION 02622 E- MB $1,000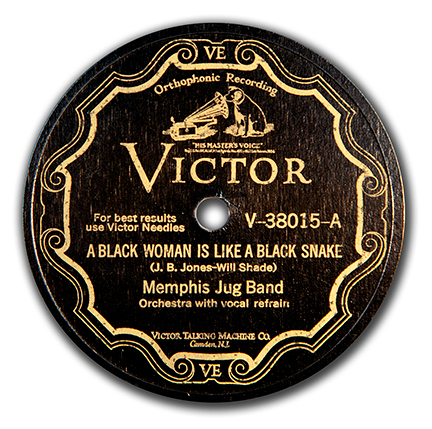 60. Memphis Jug Band — "A Black Woman Is Like A Black Snake /On The Road Again" VICTOR 38015 • E CLASSIC AND OH SO CLEAN! MB $800
61. Memphis Minnie — "Selling My Pork Chops/Doctor Doctor Blues" BLUEBIRD 6199 V MB $100
62. Memphis Minnie, Black Bob, Bill Settles — "Joe Louis Strut/He's In The Ring" VOCALION 03046 E-/V+ MB $100
63. Memphis Minnie — "Haunted Blues/Black Cat Blues" VOCALION 03581 E+ MB $300
64. Memphis Minnie — "Me And My Chauffeur Blues/Can't Afford To Lose My Man" OKEH 06288 E MB $100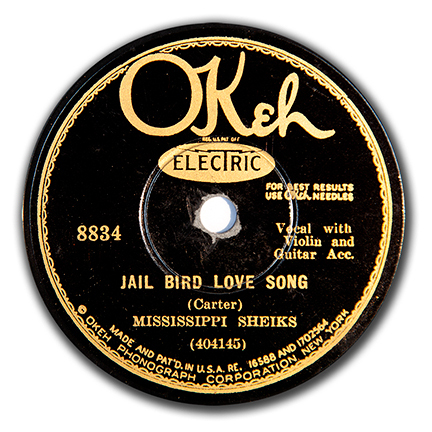 65. Mississippi Sheiks — "Jail Bird Love Song/Yodeling Fiddling Blues" OKEH 8834 E/E+ MB $400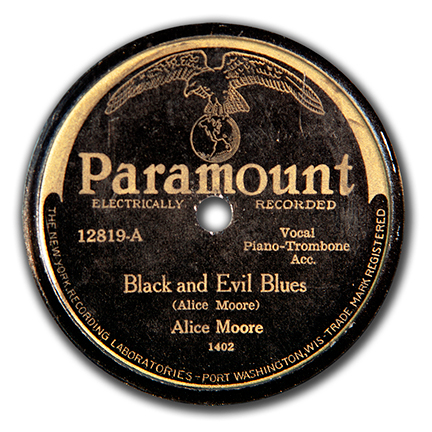 66. Alice Moore — "Black And Evil Blues/Broadway St. Woman Blues" PARAMOUNT 12819 E-/E+ MB $300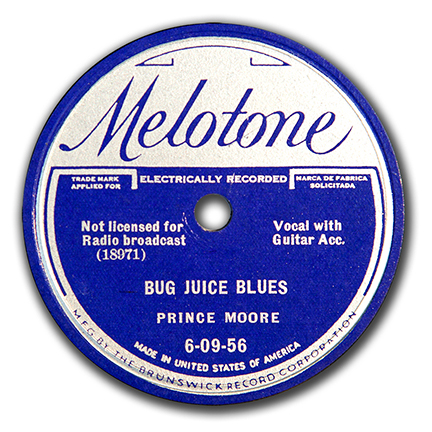 67. Prince Moore — "Bug Juice Blues/Honey Drippin' Papa" MELOTONE 6-09-56 E MB $300
68. Buddy Moss — "Midnight Rambler/Can't Use You No More" CONQUEROR 8326 E- MB $200
69. Joe Pullum/Robert Cooper — "Black Gal No. 4/West Dallas Drag_No. 2" BLUEBIRD 5947 E MB $150
70. Yank Rachell — "Bye Bye Blues/Katy Lee Blues" BLUEBIRD 34-0715 E MB $50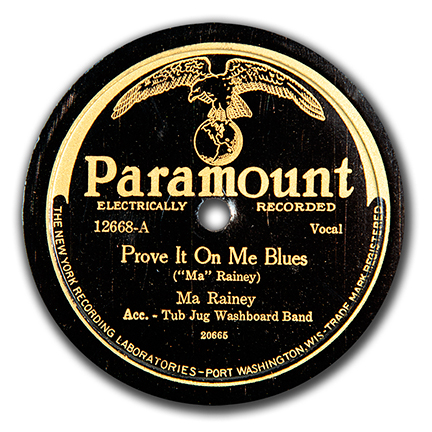 71. Ma Rainey With The Tub Jug Washboard Band — "Prove It On Me Blues/Hear Me Talking To You" PARAMOUNT 12668 E MB $300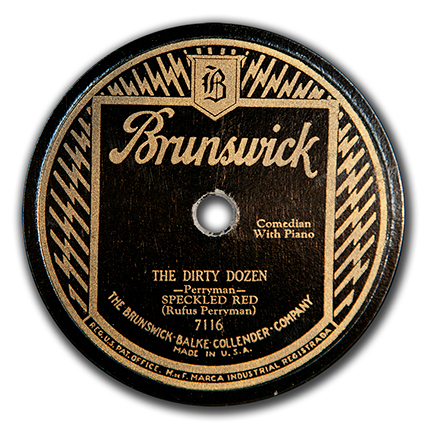 72. Speckled Red — "The Dirty Dozen/Wilkins Street Stomp" BRUNSWICK 7116 E+ This is the Original Version of the All Time Classic sung by the man who wrote the song! MB $300
73. Speckled Red — "Do The Georgia/St. Louis Stomp" BLUEBIRD 7985 E+/E MB $200
74. Tampa Red And Georgia Tom — "It's Tight Like That/Grievin' Me Blues" VOCALION 1216 E Classic MB $100
75. Tampa Red's Hokum Jug Band — "Down The Alley/Good Good Gin" VOCALION 1254 E- MB $75
76. Tampa Red — "Down In Spirit Blues/Stop And Listen Blues" VOCALION 1661 E-/E TOUGH ONE MB $150
77. Tampa Red And The Chicago Five — "All Night Long/You Got Me Worryin' " BLUEBIRD 6532 E+ MB $100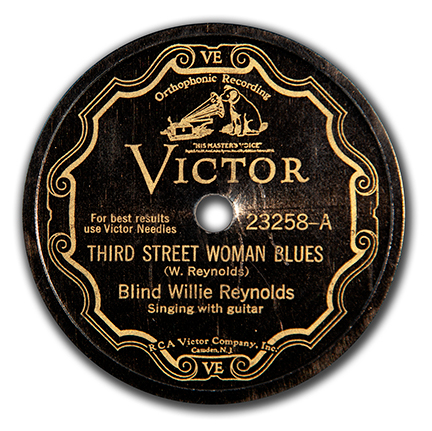 78. Blind Willie Reynolds — "Third Street Woman Blues/Married Man Blues" VICTOR 23258 V+ GREAT PLAYING COPY—Super, super rare MB $3,000
79. Bumble Bee Slim — "B And O Blues/Queen Bee Blues" VOCALION 1720 E-/E MB $100
80. Clara Smith — "Oh! Mister Mitchell/Where Is My Man" COLUMBIA 14536 E- HER BEST ONE MB $100
81. "Pine Top" Smith — "Pine Top's Boogie Woogie/Pine Top Blues" VOCALION 1645 E GORGEOUS copy of All Time PIANO BLUES Classic MB $200
82. Q. Roscoe Snowden — "Misery Blues/Deep Sea Blues" OKEH 8119 V- MB $20
83. Victoria Spivey — "Your Worries Ain't Like Mine/A Good Man Is Hard To Find" OKEH 8565 E MB $200
84. Victoria Spivey — "Funny Feathers/How Do You Do It That Way?" OKEH 8713 E- MB $100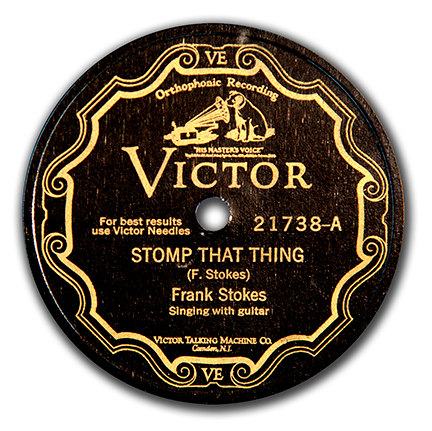 85. Frank Stokes — "Stomp That Thing/Nehi Mama Blues" VICTOR 21738 E+ STUNNING COPY of one of the ABSOLUTE GREATS!!! MB $3,000
86. "Montana" Taylor — "Detroit Rocks/Indiana Avenue Stomp" VOCALION 1419 V All Time Classic PIANO BLUES MB $100
87. Sonny Terry — "Harmonica Blues/Harmonica And Washboard Breakdown" VOCALION 05453 E- MB $50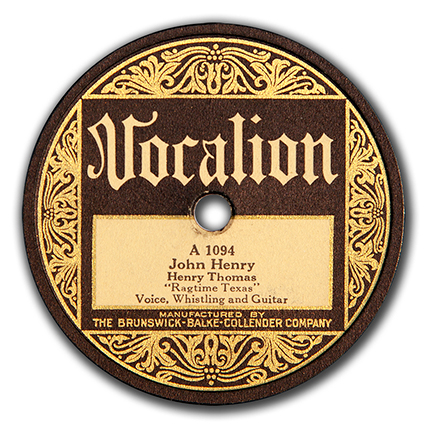 88. Henry Thomas — "John Henry/Cottonfield Blues" VOCALION 1094 V+ CLASSIC and nice player MB $300
89. Ethel Waters — "I'm Coming Virginia/He Brought Joy To My Soul" COLUMBIA 14170 V MB $10
90. Sylvester Weaver — "Penitentiary Bound Blues/Can't Be Trusted Blues" OKEH 8504 E/E- MB $200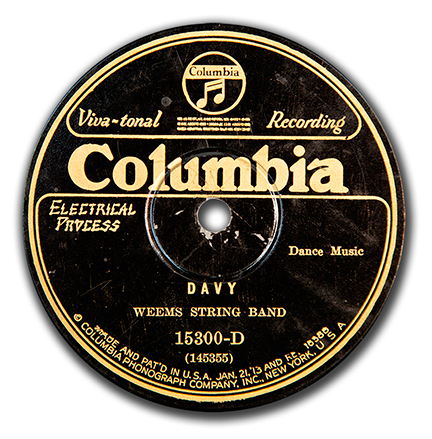 91. Weems String Band — "Davy/Greenback Dollar" COLUMBIA 15300 E- MB $100
92. Casey Bill Weldon — "Christmas Time Blues/New Round And Round" VOCALION 03860 E- MB $75
93. Casey Bill Weldon As Levee Joe — "Flood Water Blues No. 1/Flood Water Blues No. 2" CONQUEROR 8658 E+/E MB $200
94. Peetie Wheatstraw (The Devil's Son-In-Law) — "Mistreated Love Blues/Remember And Forget Blues" PERFECT 7-06-58 E+/E MB $100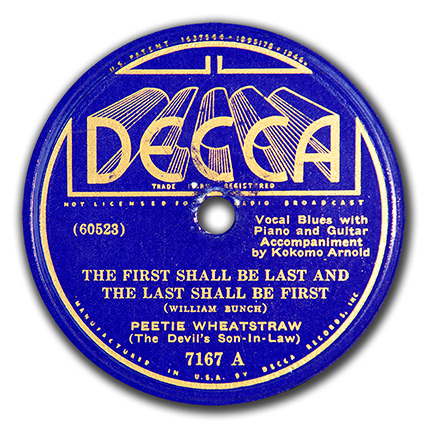 95. Peetie Wheatstraw And Kokomo Arnold — "The First Shall Be Last And The Last Shall Be First/Deep Sea Love" DECCA 7167 E RARE ONE MB $200
96. Peetie Wheatstraw (The Devil's Son-In-Law) — "Big Money Blues/Five Minutes Blues" DECCA 7738 E+ MB $100
97. Peetie Wheatstraw (The Devil's Son-In-Law) — "Don't Put Yourself On The Spot/Pawn Broker Blues" DECCA 7894 E MB $100
98. Clarence Williams — "My Woman Done Me Wrong/Farm Hand Papa" COLUMBIA 14341 E With two lam cracks MB $50
99. Clarence Williams — "Beer Garden Blues/Breeze" VOCALION 2541 V MB $10
100. Joe Williams — "Break 'Em On Down/Please Don't Go" BLUEBIRD 8969 E GREAT ONE MB $100
101. Sonny Boy Williamson — "Worried Me Blues/Frigidare Blues" BLUEBIRD 7404 E- Label tears on A-side MB $75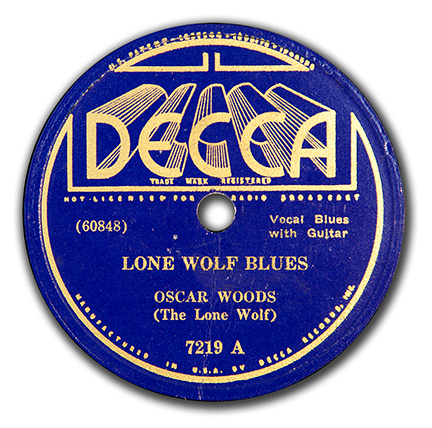 102. Oscar Woods (The Lone Wolf) — "Lone Wolf Blues /Don't Sell It—Don't Give It Away"DECCA 7219 • E RARE AND GREAT MB $400
103. The Yas Yas Girl — "I Drink Good Whiskey/Working On The Project" VOCALION 03677 E- MB $75
My September 16th DeLuca Pre-War Blues 78's Auction highlights:
Good luck, everybody!
John Tefteller

Next Month's Auction:
R&B Vocal Groups 45's!